Now that Spring is here, Qualico Communities is committed to ensuring that the community is clear of road and construction debris that has been leftover from the winter months. With community clean-up well underway, you should be noticing equipment in the area cleaning the applicable streets and laneways. Please reach out to us directly at customercare@qualicocommunities.com if you see any specific areas that are not getting the care they need.





The community is continuing with development and over the next few months, the following work will take place.
Phase 2 – Shallow utility installation

Phase 3 – Underground deep utility installation

Phases 4-6 – The grading program will begin

Jayman BUILT will also be opening a duplex sales centre in late Spring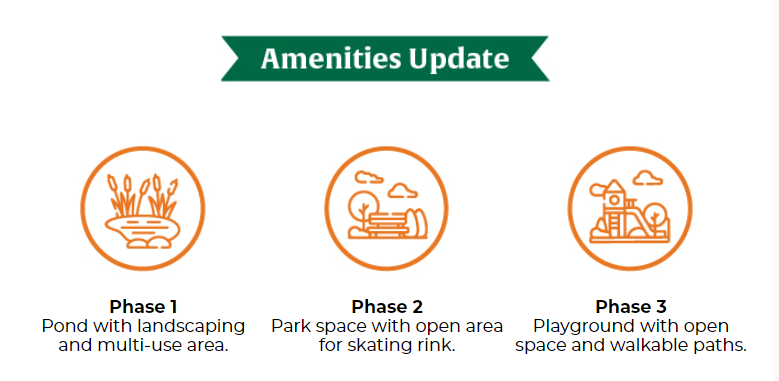 Landscaping of the pond in Phase 1 is underway and the expected completion of this amenity is later this Fall. Once complete, the storm pond multi-use area will become a community gathering place for all ages. It will include a playground with three climbing structures, multiple seating areas, and a connected paved pathway situated along the pond. Natural elements feature sandstone boulders, cedar benches, shrubs, and trees for shade.

The Phase 2 park will be a space for all ages in the community to enjoy, gather and play. Landscaped with nature in mind, this space combines elements of trees, shrubs, and sandstone boulders with the convenience of picnic tables and cedar benches. The area features a large outdoor open space that can transform into an informal skating rink during the winter. There is a small play area for younger children that will feature a nature-inspired climber and stepping logs on mulch surfacing. This space also doubles as the perfect area for the Owner's Association to host their special seasonal events for the community. We anticipate this park to be complete in late Fall.

Ambleton's Phase 3 park features a playground, open space, and a walkable pathway connection all nestled amongst natural landscaped trees, shrubs, and sandstone boulders. Designed with the community in mind, it's a place for all ages to enjoy and gather. The large playground will have multiple play structures including spinners, slides, balance boards and bridges, dome and hill climbers, a disk swing, and a sensory play station all set on top of the mulch and rubberized playground surfacing.